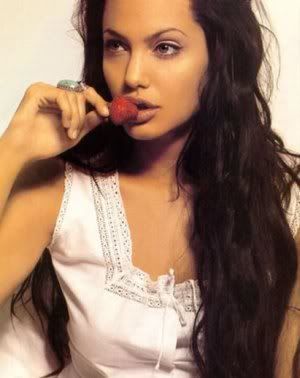 Angelina Jolie is well known for her sexy slim body. She began dieting hardcore a few years ago before her role in Tomb Raider (where she played Lara Croft, who likes to wear tight black shiny clothes …so any lumps or bumps could be seen)
Angelina says that the role of Lara Croft is very close to her own life and it was the most difficult challenge she ever faced. She dedicated herself to regular workouts and an extremely strict diet to maintain the muscular but very slim figure which the role required.
Angelina switched smoking and drinking coffee with vegetables, soya milk and meat. She used to skip breakfast, only smoking a cigarette and having a coffee instead of a nutritious breakfast. This unhealthy habit actually made her store fat instead of burning it (as her body was still in fasting mode)
How Does Angelina Jolie Workout?
Well she had to do regular workouts to get rid of those calories. She did street fighting, kick boxing, canoeing and yoga.
What Did Angelina Jolie Eat?
Steamed beef or sea bass
Vegetables
Soya Milk
No sugar at all!
Angelina gained alot of physical strength and fitness by following this exercise regime. By looking at her body in the movie you can see that it really works and paid off. She had to do difficult stunts such as sword fighting, dog sledding, spear throwing and bungee jumping.
All of these were new to Angelina but her physical strength and fitness enabled her to undertake these tasks with ease! She refused to allow a body double to perform the dangerous stuns and insisted on doing them herself.
Angelina Jolie's tomb raider diet was extremely healthy. Since then she has shed many more pounds as a result of her mother's passing. She has not been able to eat due to depression and it's sad to see her wasting away.